Pre-Reformation Trail
Racavan
Rath Cabhain - 'the fort of the hollow'.
A church in this area first appeared in records around 1300. However, little is known about the early history of this site. The graveyard was heavily used by early Scottish settlers and their descendants. The site benefits from excellent views along the Braid Valley.
Access details
Access is via an unsurfaced lane off the Racavan Road, approximately 4 miles from the village of Broughshane. Extreme care must be taken when exiting the lane as it is located on a corner of the road.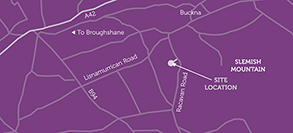 RPC
The church
In 1622 the church was noted as decayed and by 1657 it was not in repair. By 1832, there was no physical trace of a church and no local memory of a church being on the site. However, in 1837, the Ordnance Survey recorded that there were visible foundations in the graveyard of a wall but it was unclear if this was the gable of a church or a wall erected for placing headstones. The foundations of the church are no longer visible.
The graveyard
In 1832, it was recorded that the graveyard had been enclosed by a wall. At this time it was thought that the burial ground must have been much bigger in the past as bones and fragments of coffins had been found in neighbouring fields.
In 1837 it was noted that four paved roads had once led from the graveyard in the directions of the four points of the compass but they had been destroyed around 1800. Two bullaun stones were also associated with this site - one has been built into the graveyard wall while the other was taken to St Patrick's Catholic Church, Braid. A bullaun is a stone with a depression on its surface. According to folklore, water that gathers in one is thought to have healing powers.
The graveyard was known in the 1830s to be used only by Presbyterians. This is reflected by the high number of Scottish names that were recorded in the graveyard. In 1916, W. F. Reynolds commented in the Journal of the Association for the Preservation of Memorials of the Dead in Ireland, '...in the midst of a beautiful and fertile country, under the shadow of Slieve-Mis (Slemish) of saintly memories, lies the little triangular burial-ground of Racavan – Rath Cabhain – "the fort of the hollow'.
Churchyard Facts & Figures
First used as a Christian religious site
Unknown - predates 1300AD
Papal taxation of c.1300
1 mark
Church name used in Papal taxation c. 1300
Rathcona
Discontinued use of site
Presumed to be unused post Reformation
Townland
Racavan