Pre-Reformation Trail
Ballyclug
Ballyclug - Townland of the bell.
The first church on this site predates 1164. Following the Reformation the church came under the control of the Church of Ireland. By the early 1600s the church was decayed and out of repair.
Access details
The graveyard is easily accessed off the Liminary Road, where there is a layby for parking. The site is located on the outskirts of Ballymena, approximately 2 miles from the town centre.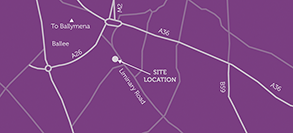 RPC
The Bell
Ballyclug means 'townland of the bell'. Bells were of important religious significance in the early Irish church. They were used to call the religious to their duties and accompanied excommunications or other offences or attacks against the church. Distinguished members of the clergy often carried bells with them.
The church
A church on this site was destroyed around 1164. There are records of a church here after this so it must have been repaired or rebuilt. However, by the 1600s the church was in a state of disrepair and there is no evidence that it was ever repaired or rebuilt.
In 1837, the foundations of the church could still be seen. The stones from the foundations were taken to build the adjacent school house. The church was replaced by a new Church of Ireland built in 1844 in the townland of Ballymarlagh.
The graveyard
The wall surrounding the graveyard was rebuilt in 1824. At this time the graveyard was enlarged slightly and the entrance changed to the south east corner, where it remains today. When the work on the entrance was carried out the 'ancient paved road' from the original entrance was destroyed.
Some of the inscriptions recorded in the 1800s are no longer identifiable. They may have been removed or their inscriptions become illegible. The monument to the Montgomery family features a coat of arms and motto, 'Honneur Sans Repos'.
Walkinshaw Family
Although the gravestone is no longer legible or may have been removed, there are records stating that there was once a memorial to the Walkinshaw family. They lived at Forthill in the parish of Connor. The family had emigrated from Scotland following their defeat in the battle of Killiecrankie in 1689. Local tradition has it that this family is descended from Miss Walkinshaw, the mistress of Bonny Prince Charlie.
Churchyard Facts & Figures
First used as a Christian religious site
Before 1164 AD
Papal taxation of c.1300
1 mark, 40d
Church name used in Papal taxation c. 1300
Ballilugd
Church Size
Medieval church: 58 feet in length, 28 feet in breadth (no longer visible.
Discontinued use of site
C. 1657
Replaced by
St. Patrick's Church of Ireland, Ballymarlagh, built 1844, rebuilt 1880.
Townland
Ballylesson